Brain natriuretic peptide (BNP) and N-terminal brain natriuretic peptide precursor (NT-proBNP) belong to the natriuretic peptide (NP) family. The natriuretic peptide is a large family, the main members include atrial natriuretic peptide (ANP), brain natriuretic peptide (BNP), C natriuretic peptide (CNP), and so on. BNP and NT-proBNP are currently the most important biomarkers for the diagnosis and treatment of heart failure.
Where does it come from?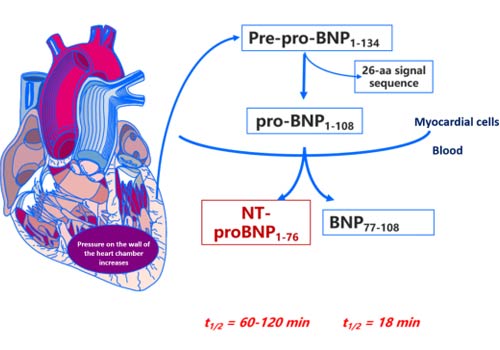 Myocardial cells stimulated (such as ventricular mechanical stretch), will produce B-type natriuretic peptide (pre-proBNP), a protein containing 134 amino acids, then it will shed 26 amino acids, to form the BNP precursor which containing 108 amino acids (proBNP), The BNP precursor was cleaved into NT-proBNP containing 76 amino acids and BNP containing 32 amino acids under the action of the endonuclease. These are the two main protagonists of this article.
It seems that there is an NT-proBNP generation, will be accompanied by the generation of a BNP, their precursors are exactly the same, the same source, like a pair of twin brothers. However, there is more difference between the twin brothers than we think.
The difference between BNP & NT-proBNP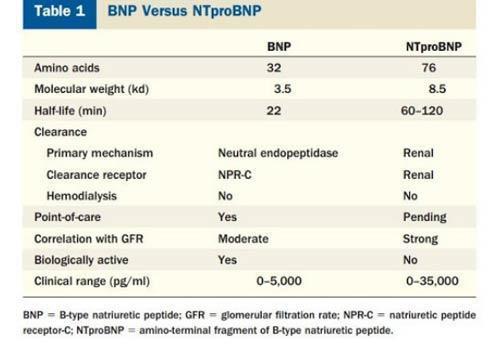 The half-life in NT-proBNP is longer than that in BNP
The half-life of NT-proBNP is 90 to 120 minutes, while the half-life of BNP is only 18 to 20 minutes. In this way, NT-proBNP has a higher circulation level compared with BNP, and the high circulation level makes the dynamic range of IVD detection wider, so the discrimination ability is better. Therefore, the clinical sensitivity of NT-proBNP is better and it can detect the early or mild stage of the disease;
The stability of NT-proBNP is better than BNP
At room temperature, NT-proBNP was stable for up to 72 hours, while BNP for EDTA samples was stable for only 4 hours. In this way, the detection of NT-proBNP from sampling to specimen management are more simple; It is also easy to transport samples from the emergency room or doctor's office to the laboratory; For independent laboratories, there is no need to centrifuge or freeze the samples; Easier to repeat testing (100% recovery within 3 days).
NT-proBNP was less affected by treatment
Because BNP has physiological activity and NT-proBNP has no physiological activity, taking into account the ingredients of some drugs or the mechanism of treatment, will make BNP significantly increased in the course of treatment, unable to reflect the concentration of secreted BNP in the body, and will be lower than the baseline by 2 hours after the end of treatment; While NT-proBNP can be significantly lower than baseline in 12 hours of treatment, and the maximum reduction is achieved by 24 hours after the end of treatment. This indicates that NT-proBNP is better than BNP, and its level changes can more accurately reflect the treatment effect.
Hipro Biotechnology uses the liquid phase method to determine NT-proBNP.
Quick response, accurate numerical value, easy to use,
It is an ideal choice for assessing heart failure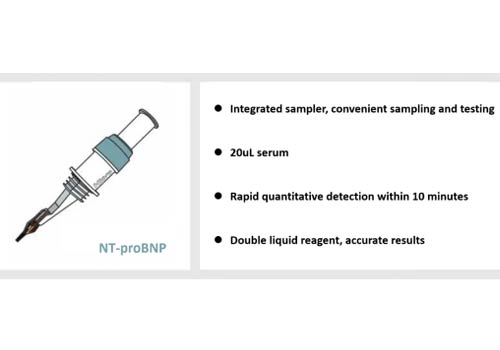 News Related to Hipro Point-of-care Products